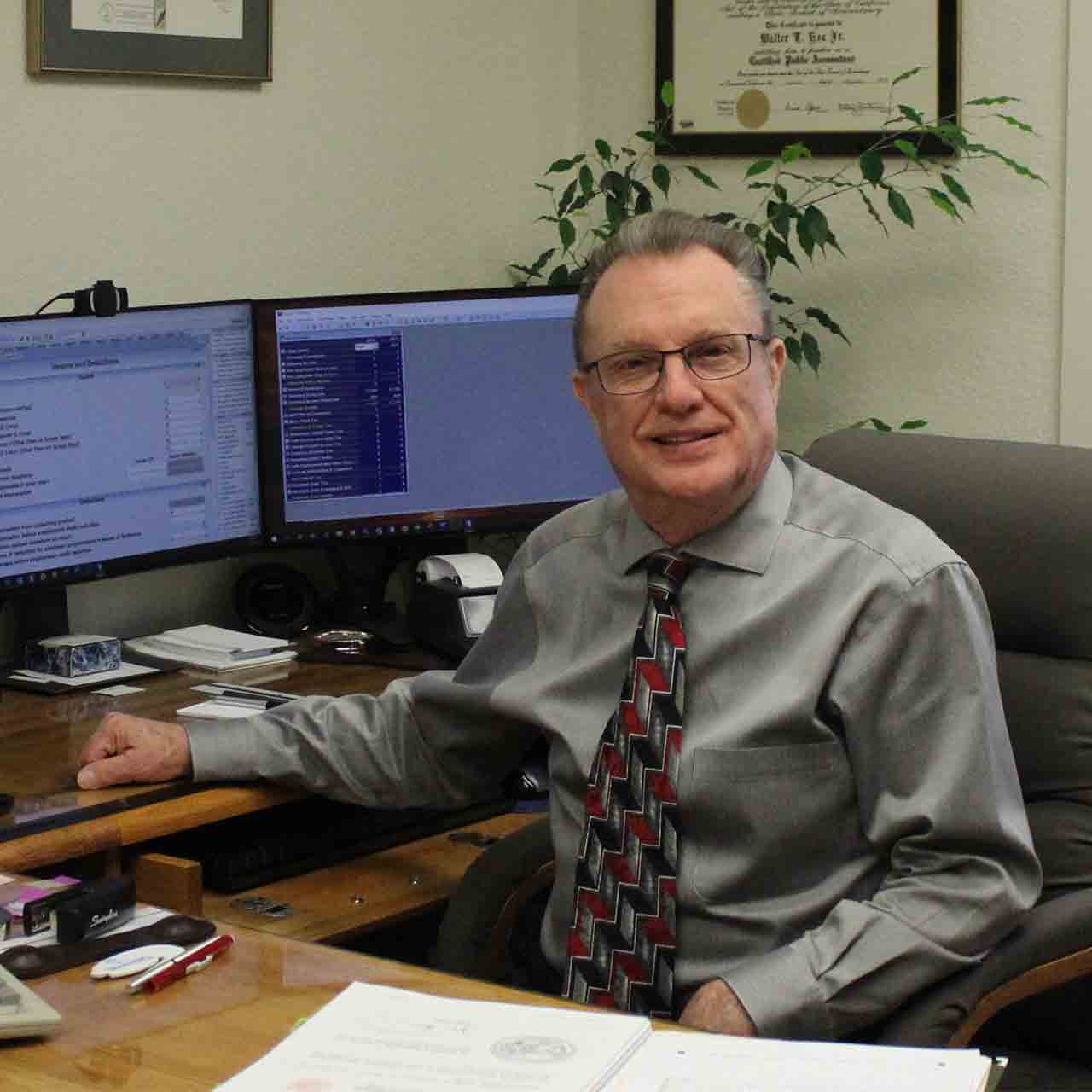 Walter T. Rea Jr. - Partner
When Walter T. Rea Jr. was a senior in high school, his dad took him to a friend's office who happened to be a Certified Public Accountant. On the wall was a huge CPA certificate. Even though Walter wasn't sure what the profession was, he said to himself, "That's what I want." He then went on to college, became a CPA and has been in the field ever since.
With over 50+ years in the industry, Walter T. Rea Jr. is Rea & Associates' managing partner. Actually, the staff calls him "The Big Cheese." He's responsible for establishing the firm's long-range goals, hiring and firing, daily operations, including technological upgrades, and countless other tasks. Walter has been with Rea & Associates since its inception 30+ years ago and specializes in individual and estate tax, partnership tax/accounting and general management issues.
A California native, Walter was born in Lompoc, Calif. He received his bachelor's degree in business administration/accounting from California State University, Los Angeles in 1968 and earned his Certified Public Accountant (CPA) certificate in 1974. He has belonged to the California Society of Certified Public Accountants since 1974 and the American Institute of Certified Public Accountants since 1975.
After working in public accounting for about 18 months he was drafted into the army, where he served in the finance corps and in Vietnam. After he received his CPA certificate, he took a job as vice president of finance for a 500-bed teaching hospital. He later became vice president of finance and project director of financial software development for a computer startup company.
Later Walter went to work for a CPA firm in Beverly Hills, owned by Julius Lefkowitz, whom Walter considers his mentor. It was from Julius that Walter learned to be passionate about his profession, that above all else, one must honor the ethics of his profession, and the importance of doing the best job you are humanly capable of for every client, every time.
Walter later left Julius Lefkowitz & Co. and moved to Patterson, where he set up farming investment partnerships for Los Angeles clients, managed investments, owned more than 350 acres of fruit and nuts and served on the Diamond Walnut Advisor Committee.
Walter has served as vice president of finance for Functional Designs LLC – a Reno furniture and carpet company and secretary for the Patterson Cemetery District. He is the past president and vice president of finance for the Copper Creek Homeowners' Association.
Although he's very busy, Walter enjoys cooking, working in the yard and interacting with the community at Copper Creek. His talents include a way with words and the unique ability to work well with both staff and clients.
Walter and his wife, Liz (Elizabeth) enjoy his four children: Joy, James, Michelle and Michael and their grandchildren Charlie, Tyler and Landen, and are anxiously awaiting their 4th grandchild in 2021. The Reas' newest babies in the family are two German Shepherd puppies: Shebba (90 lbs) and Bubbba (100 lbs).
In addition to meeting some of Hollywood's "old guard" while at Julius Lefkowitz & Co., when he was a young child, Walter shook hands with then-President Eisenhower. Walter's favorite foods are his mom's broccoli casserole and her homemade macaroni and cheese topped with ranch dressing. He loves all types of salads and could eat them for every meal! His favorite dessert is banana cream pie.
Walter is very passionate about his job, emphasizing that the finished product (i.e. tax return, financial statement) must not only be attractive, it must meet the highest standards of excellence! His goal for every client is to do the best possible job. "This often means asking additional questions and seeking more information," Walter says. Regarding the Rea Team, he says his staff goes the extra mile for every client. "I really believe we have a staff that will 'go to until they drop' for the clients as well as for Tim and I," he says.
"We work very hard here, but we also take time to have fun," Walter explains. "Pumpkin Pal week is a great example. During Halloween week, we draw names and bring surprises each day for our secret pal. We do the same for Valentine's week."
Walter adds, "Everyone who walks through our door does so the first time as a 'client.' But none stay 'clients,' they become 'family.' And family deserves the best! So, our job of 'delivering the highest possible quality of service in a timely manner' is easy because that's what family deserves!"