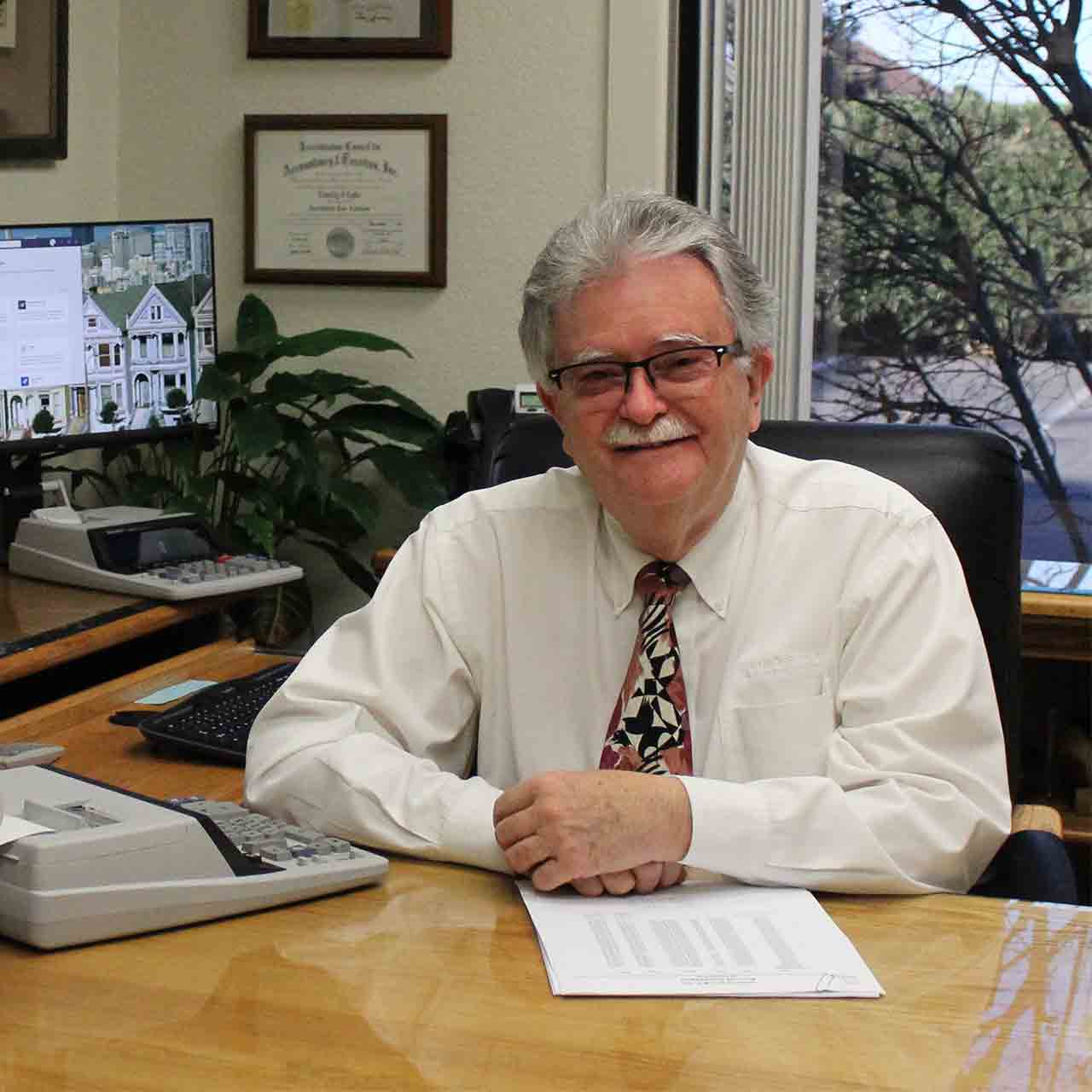 Timothy D. Taylor - Partner
Affectionately referred to by the staff as "The Little Cheese," area native Tim Taylor, partner, and enrolled agent, joined Rea & Associates in 1997 with the acquisition of Noret Bookkeeping Service. He became a Rea & Associates partner in 2004. Tim has more than 35+ years of experience as an accounting and tax professional.
He earned an associate degree from Modesto Junior College in 1972 and spent the next 10 years working full-time for a local real estate firm as its bookkeeper and office worker. During this time, Tim began working part-time during tax season for Noret Bookkeeping Service. He became a full-time employee for Noret in 1985. A coworker, the late Betty Mount, quickly became a mentor to Tim and inspired him to further his career in the tax field. Tim became an Enrolled Agent in 1989.
Tim is a member of the National Society of Enrolled Agents and the California Society of Enrolled Agents. He has also served on the board of directors in various capacities of the local Big Valley Chapter of the California Society of Enrolled Agents. He has been a Notary Public for 45+ years without interruption.
He has completed all levels of the National Tax Practice Institute - earning the designation of "Fellow," and holds the designation of "Accredited Tax Advisor" from the Accreditation Council for Accountancy and Taxation. His primary responsibilities at Rea & Associates include overseeing the bookkeeping staff and tax preparation - specializing in taxes for individuals and small businesses.
One of the busiest people you'll ever meet, Tim enjoys all types of travel and has visited all of the western states, Nebraska, Indiana, Ohio, Florida, Texas and Washington D.C. He has also enjoyed trips to Victoria and the Canadian Rockies. A favorite camping spot is the Clarks Fork area in the Stanislaus National Forest. An overseas trip in 2006 satisfied a lifelong desire to visit Salzburg, Austria and see the Austrian Alps along with a stay in Slovenia and a visit to Venice, Italy. In 2017, another lifelong desire to travel to Alaska was accomplished, with the highlight being a day trip on the White Pass & Yukon Railroad, Skagway, AK.
Tim is a longtime member of the Stockton Cactus and Succulent Society, where he has served on the board for several years, including three terms as president. He finds the plants most unusual, from a drab, sometimes ugly plant, a vibrant, gorgeous flower will burst forth - adding truth to the old saying, "Beauty lies within." He says his club associates are an interesting group of people, ranging from the world travelers in search of rare and endangered species of cacti and succulents, to the novice collector, like himself. Due to time constraints, Tim has been less involved in the club recently, but remains a member.
Tim says, "Being part of the Rea & Associates family is truly unique. Being surrounded by a hard-working staff and having a dedicated partner makes being a partner of the company truly an enjoyable experience" He also says, "All of our staff, Walter and myself, work very hard to provide the best possible service to our clients, but it's really great to have some fun along the way!"
Tim notes, "The joy and the bright spot in tax season for me is the clients that I serve." He adds, "I always look forward to seeing my clients, even if it's only once a year."